What is Tokyo Tower?
Tokyo Tower is one of the symbols for Japanese. Built in 1958 and the formal name is "Japan Radio Tower".
Tokyo Tower has been loved for a long time and its height is 333 meters or about 1092 feet. When Tokyo Tower finished building, it was higher than Eiffel Tower in Paris.
You can see that Tokyo Tower is decorated by red and white. You perhaps guess these colors are coming from Japanese national flag. There are many theories but it is said that these color are standing out and pilots can easily recognize Tokyo Tower even during the daytime.
However, Tokyo Tower finished its role of Radio Tower as Tokyo SkyTree, which is the highest buildings in Japan have replaced its role.
Tokyo Tower is located in the center of Tokyo prefecture, so you can overlook the whole, entire Tokyo view from the observatory!
Highlights
Overlook entire Tokyo view and feel Tokyo!
Tokyo Tower has two observatory, one is called main deck and 150 meter tall, the other one is called top deck and 250 meter tall.
There is a window underfoot in the main deck area so you can see right under the Tokyo Tower. It might be scary for those who hate the height. But why don't you walk on the window?
The highest shrine in Tokyo Prefecture!
Perhaps you can't believe that there is a shrine in Tokyo Tower but there is! Tokyo tower is famous place to pray a fulfillment in love and pass for a school entrance exam.
Top deck tour!
You can book a tour beforehand if you go to the Top observatory. In this tour, you can watch the Tokyo Tower Gallery, which displays a history of Tokyo Tower. Also, drink and photo services are included.
Hours
Main deck (150m) 9:00-23:00 (Last entrance 22:30)
Top deck (250m) between 9:00-22:15, every 15 minutes (Last tour 22:15)
Price
Main deck

Adult - 900 yen
Child - 500 yen
Infant - 400 yen
Top deck

Adult - 2800 yen
Child - 1800 yen
Infant - 1200 yen
Stairs?
You can go to the Main deck (150m) by stairs on only weekends. There are about 600 stairs to get there. The original certification will be served after reaching the Main deck! Don't worry, you can use elevator when you get to the ground.
Only Saturdays and Sundays from 11:00 to 4:00 p.m.
Projection mapping and night view
Tokyo Tower is also famous for its beautiful projection mapping. It changes based on the season, so you can enjoy the different projection mapping for each season. For example, in the summer, projection mapping is about fireworks, which is also really popular in Japan. During winter, it collaborates with illumination.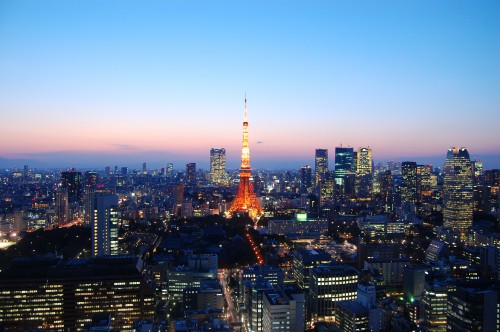 Tokyo Tower Light Up
Different from projection mapping, but Tokyo Tower also have Light Up during night!
There are some types of light up, one is called Land mark light and the other one in called Diamond veil.
Land mark light has also two types, one is white-based light and the other one is orange-based light. The former can be seen during the summer and the latter can be seen during the winter.
The Diamond Veil uses 7 different colors. You can see ONLY on Saturday from 8:00 p.m to 10:00 p.m normally.
Also, sometimes, it is lighting up in a special pattern depending on the event. For example, when Japanese soccer team had a national match, Tokyo Tower was white and blue, both are the colors of the soccer team.